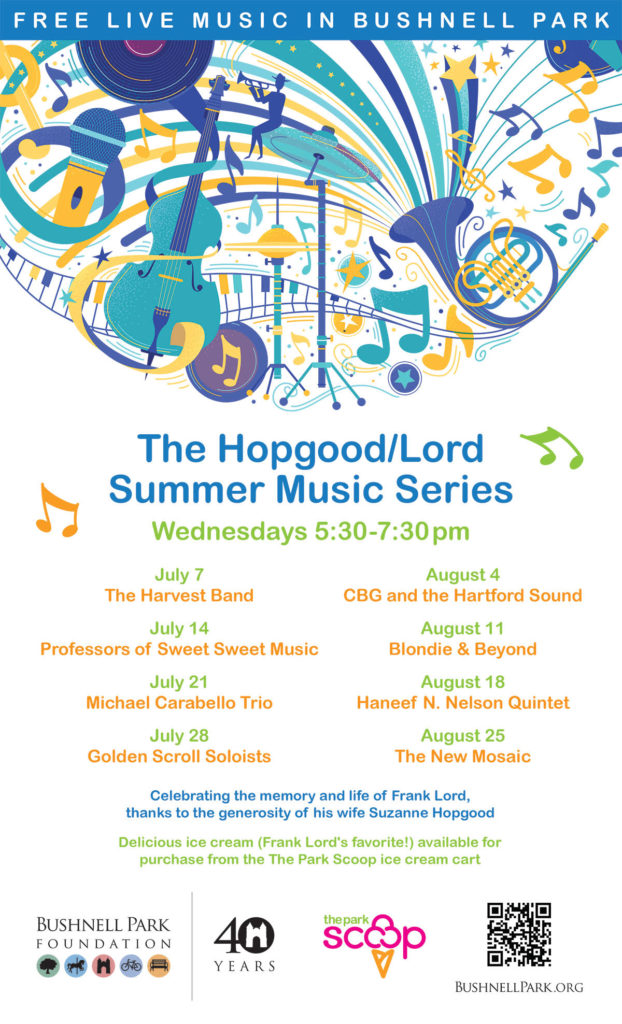 July 7 – The Harvest Band
We've waited so long to return to enjoy what has always been a rite of summer – LIVE MUSIC IN THE PARK! Come out and see the Harvest Band as they kick off the Hopgood/Lord Summer Music Series. Mixing originals with favorites from Bob Dylan to The Rolling Stones, it will be a twilight to gather with friends and celebrate summer in Hartford's beautiful Bushnell Park.
Fixtures on the New England music scene, The Harvest Band consists of singer/songwriter John Mayock on guitar and vocals, Tim McDonald on guitar and vocals, Mark Mercier on keyboards, Marshall Grossman on drums, and Ron " Buck" Pitz on bass and vocals.



July 14 – Professors of Sweet Sweet Music (POSSM)
The Professors of Sweet Sweet Music (POSSM), an energetic alt-folk band, has an infectious charm and enthusiasm for life. POSSM is the co-creator of the Hartbeat Music Festival and has won Best Band in both the Hartford Magazine and CTNOW readers polls. They are thankful for the support, inspiration, and friendship given by their community in Hartford. Off the stage they are surfers, teachers, students, and lovers of life.
July 21 – Michael Carabello Trio
Michael Carabello is a multi-genre pianist out of the Greater Hartford and New Haven regions. As a product of the Artist's Collective Youth Jazz Orchestra under master artist in resident Rene McLean, as well as the Jackie McLean Institute of Jazz at the Hartt School of Music, Mike makes strides to be a part of many branches of Black American Music while keeping his influences rooted in themusic of Bud Powell, Herbie Hancock, Jackie McLean, and Marc Cary. Carabello has studied piano under pianists such as Rick Germanson, Andy Laverne, and Alan Palmer. He has worked with bassist Nat Reeves, drummer Ronnie Burrage, saxophonist Rene McLean, trombonist Steve Davis, and drummer Jonathon Barber. He has performed at The White House for First Lady Michelle Obama, The Ninth Note Jazz Club, Black Eyed Sally's Jazz Club, The Side Door Jazz Club, and The Rubber City Jazz Festival. Mike is currently a part of working bands including The Lost Tribe and The New Mosaic.
July 28 – Golden Scroll Soloists
With a broad collection of uniquely arranged pop music covers for string quartet, the Golden Scroll Soloists have been wowing audiences with a variety of styles for over fifteen years. Similar in style to the Vitamin String Quartet of YouTube fame, the Golden Scroll Soloists meld pop, classical, and jazz into an upbeat string quartet experience.
August 4 – CBG and the Hartford Sound
CBG and the Hartford Sound is a collective started by pianist Damian Curtis, percussionist Nelson Bello and trombonist Emmett Goods. The three have been friends and musical associates for over 20 years but in 2014 came together for a one night gig and decided to keep working. In the last six years, the band has played all across New England and in Pittsburgh, Pa. The group's unique mix of both jazz and latin styles gives them a sound that can only be described as uniquely "Hartford". The band is currently working on their first recording due for release in 2021.
August 11 – Blondie & Beyond
Blondie & Beyond is a top level professional tribute band showcasing music from the biggest female artists and female fronted bands of the 70's and 80's. It is a new concept spinoff project that started in 2019, featuring four members of Vinyl Revolution, backing up lead vocalist Cheryl Tracy, a fixture on the Connecticut music scene for many years. The boys from Vinyl Revolution, performing together since 2013, have performed at many venues in the state, including the major fairs in Berlin, Hebron and Durham, Foxwoods Casino and many other public and private venues.
August 25 – The New Mosaic
It's a mood, a collage, a heartbeat. It's hip-hop flow, jazz, rhythm and blues colliding with presence and pocket. From the voice and mind of Erica T. Bryan with Tom Sullivan (bass, West End Blend), comes a neo-soul project for a new generation. Together with Mike Carabello (keys, The Lost Tribe), and Dwayne Keith (drums, Nikita, The Dwayne Keith Project, Therabeat) the group delivers a groove drenched in attitude, gratitude, and love energy.
This is The New Mosaic: serving soul and sunlight since 2018. CT grown. Be a witness. Their debut single, "Out of Body," is available digitally everywhere.