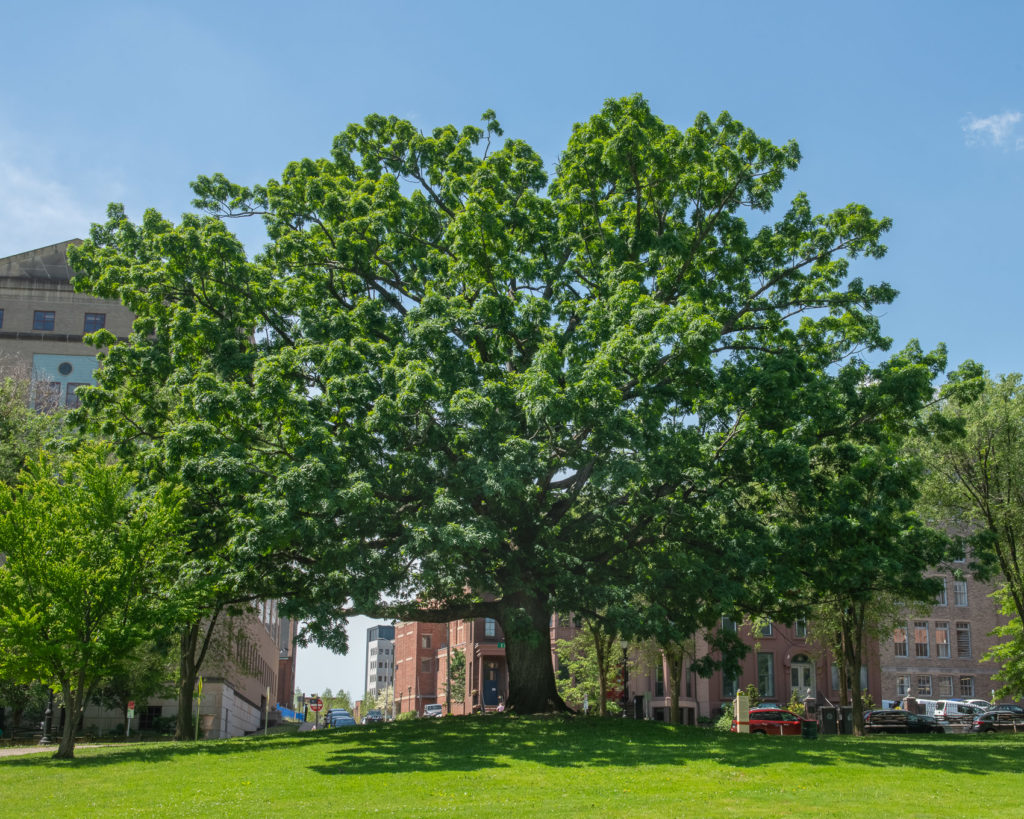 Weidenmann Tree Society
Starting May 1 through June 30, 2021, Bushnell Park will be part of a collaboration with the Connecticut Valley Garden Club (CVGC) and SustainableCT to raise funds for four Hartford parks, including Bushnell Park. As part of its 40th anniversary year, Bushnell Park Foundation (BPF) is embarking on a major campaign, the Weidenmann Tree Society, to increase the tree canopy in the Park. The goal is to plant 40 trees this year and close to 100 more over the next few years.
Bushnell Park Foundation's goal for the Crowdfunding Campaign is to raise $5,000 from at least 20 donors. If successful, BPF will receive a matching grant of $5,000 through SustainableCT's Community Match Fund. With support from friends, the Park hopes to raise $10,000 in two months and plant new trees this summer, in partnership with KNOX and their Hartford-based staff.
The Weidenmann Tree Society tree management program is named for Jacob Weidenmann, the landscape architect who designed the Park. With 37 acres and more than 460 trees today, over the years Bushnell Park has seen hundreds of trees lost to damage, disease, drought, climate change, air pollution and extreme weather.
More information and a link to donate to Bushnell Park's Crowdfunding campaign can be found at: www.Patronicity.com/BushnellPark. You can also donate on our webiste – click on the link above. Checks can also be mailed to Bushnell Park Foundation, P. O. Box 230778, Hartford, CT 06123.
During the pandemic, Bushnell Park has become the safe oasis with natural social distancing in our capital city, offering the physical activity, fresh air, safe social interaction, and positive mental well-being so vitally craved by people of all ages and walks of life. During normal years, Bushnell Park welcomes more than 500,000 visitors and hosts close to 100 events.
The Importance of this campaign & why trees are critical to the vitality of Bushnell Park
Bushnell Park is a critical component of the City's infrastructure and essential for a vibrant community.
Bushnell Park provides a backyard and playscape for many city neighbors without resources.

Trees clean the air and remove up to 60% of street-level air pollution which is a significant cause of public health issues in urban areas.

Trees alleviate heat stress by reducing ambient temperatures.

Urban trees have been shown to slow traffic and provide buffers for pedestrians and cyclists. Streets become safer and more walkable, and can significantly reduce traffic noise and provide quieter areas for urban living.

Trees and green space provide critical habitat, food and shelter for native birds and wildlife.
As the Bushnell Park Foundation celebrates its 40th anniversary milestone this year, please honor the Park with a donation of any amount to ensure the Park's enjoyment for all for years to come.