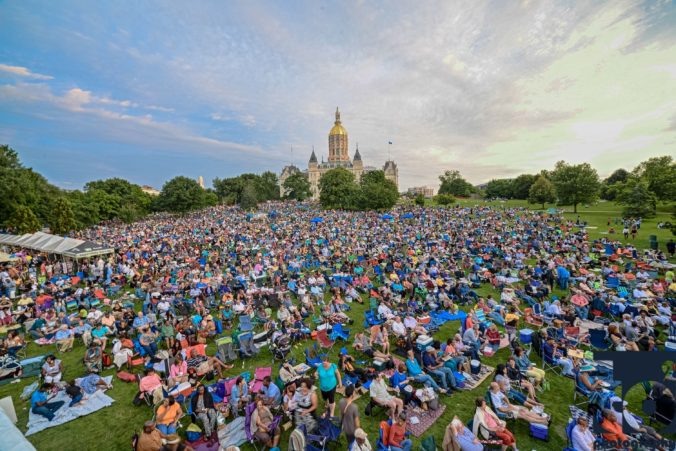 Events
Make time to visit Bushnell Park
Get out and enjoy a picnic in the park, ride the carousel, run a race, or just relax….
Ongoing Events
Bushnell Park Historic Tours
Tours are scheduled the first Saturday of the month, May-October at 10am. Meet at the Carousel. The tour lasts approximately 90 minutes.
Tour of the Soldiers and Sailors Memorial Arch
May-October on Thursday afternoons from 12:00-1:30pm.  Tours lasts 20-30 minutes.
Bushnell Park Tree Tours
The first Tree Tour of the season is on Sunday, June 2 at 4:30pm.  Meet at the Arch.  This tour is organized by the CT Forest & Park Association as part of CT Trails Day.
Bushnell Park Carousel
March – closed.  April-June – Open Saturday-Sunday from 11am-5pm
Rental information for parties and other functions
Phone # – 860-585-5411
Yoga in Our City – FREE Yoga Classes
Mondays & Wednesdays – 5:30-6:30pm
May 27-September 11
Community Nights in the Park
Friday, July 5 & Friday, August 16
6-8pm – The Arch is open for tours and FREE carousel rides
8:30ish – Movie starts
July 5 movie – The Neverending Story
August 16 movie – Inside Out
Special Events
Please click on links for more information, as these are not Bushnell Park Foundation events.  All information should be on organizers websites.
Sunday, June 2– 2019 Greater Hartford Puerto Rican Day Parade
Sunday, June 9 – 25th Annual Susan G. Komen More Than Pink Walk
Saturday, June 15 – Hare Krishna Festival
Friday, June 21 – Make Music Hartford
Saturday, June 22 – Black-Eyed & Blues Festival
Saturday, June 29 – 2nd Annual House Music Festival
Saturday, July 6 – Mari's Hope Annual Zumbathon – 8am-1pm
Monday, July 8 – Monday, August 12 – Paul Brown Monday Night Jazz Series – 6pm opening act, 7:30pm headliner
July 19-21 – Greater Hartford Festival of Jazz
Thursday, August 1 – CFA Society Corporate 5K
Saturday, August 10 – West Indian Day Parade
Saturday, August 24 – Bushnell Park Carousel 105th Birthday Celebration
Saturday, September 7 – 24th Annual LEVAS Gospel Music & Fair
Saturday, September 21 – 20th Annual Recovery Walks and Celebrations
Saturday, October 12 – Eversource Hartford Marathon