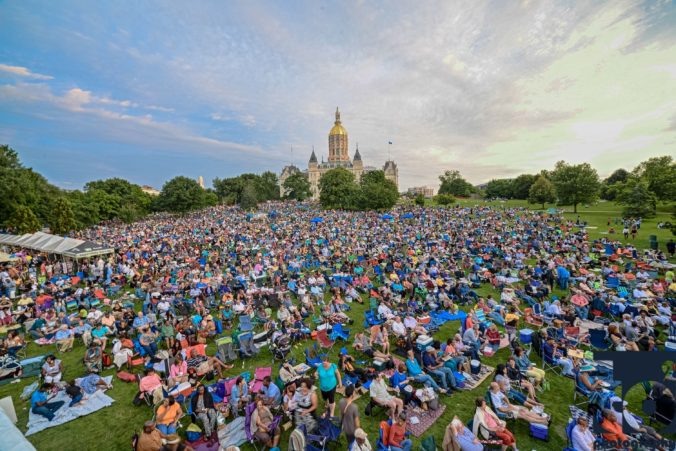 Events
Make time to visit Bushnell Park
Get out and enjoy a picnic in the park, ride the carousel, run a race, or just relax….
Ongoing Events
Bushnell Park Tours
Next scheduled tour is Saturday, September 8 @10am.
Meet at the Carousel
Tour of the Soldiers and Sailors Memorial Arch
May-October  on Thursday afternoons from 12:00-1:30pm
Bushnell Park Tree Tours
Next tour dates are September 18 & October 16 @12pm.
Meet at the Carousel
Yoga in the Park
Mondays & Wednesdays @5:30pm
Until the end of August
Bushnell Park Carousel
July & August – Open Wednesdays-Sundays from 11am-5pm
Rental information for parties and other functions
Phone # – 860-585-5411
Paul Brown Monday Night Jazz Series
Schedule of Performers
July 9 – August 13 – 6-9pm
Special Events
Please click on links for more information, as these are not Bushnell Park Foundation events.  All information should be on organizers websites.
Saturday, August 11 – West Indian Day Parade – Parade from 11am-2pm, followed by concert in the park
Saturday, August 25 – Happy 104th Birthday Party for Bushnell Park Carousel – 11am-5pm
Saturday, September 8 – 23rd Annual LEVAS Gospel Fest – 12-7pm
Saturday, September 15 – 19th Annual Recovery Walk– 10am-2pm
Saturday, September 22 – Peace, Love & Music Together – 10am-1pm
Saturday, October 13 – Eversource Hartford Marathon, Half-Marathon & 5K
Thursday, October 18 – Light the Night – 5pm
Saturday, October 28 – Making Strides Against Breast Cancer– Registration at 8:30am, walk at 10am