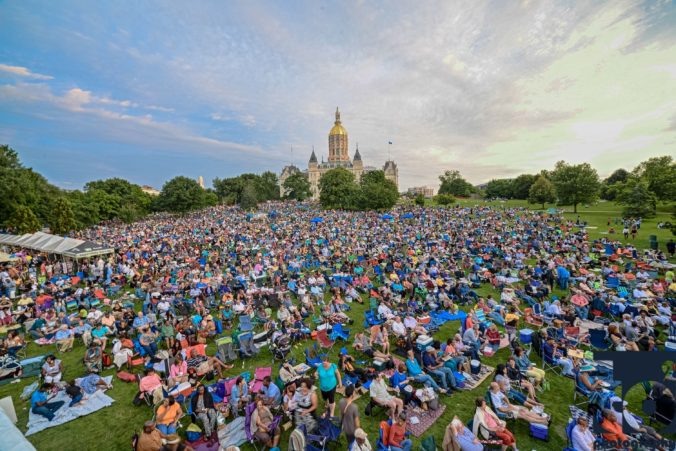 Events
Make time to visit Bushnell Park
Get out and enjoy a picnic in the park, ride the carousel, run a race, or just relax….
Ongoing Events
Bushnell Park Historic Tours
Tours are scheduled the first Saturday of the month, May-October at 10am. Meet at the Carousel. The tour lasts approximately 90 minutes.
Tour of the Soldiers and Sailors Memorial Arch
May-October on Thursday afternoons from 12:00-1:30pm.  Tours lasts 20-30 minutes.
Bushnell Park Tree Tours
The first Tree Tour of the season is on Sunday, June 2 at 4:30pm.  Meet at the Arch.  This tour is organized by the CT Forest & Park Association as part of CT Trails Day.
Bushnell Park Carousel
March – closed.  April-June – Open Saturday-Sunday from 11am-5pm
Rental information for parties and other functions
Phone # – 860-585-5411
Yoga in Our City – FREE Yoga Classes
Mondays & Wednesdays – 5:30-6:30pm
May 27-September 11
Community Nights in the Park
Friday, July 5 & Friday, August 16
6-8pm – The Arch is open for tours and FREE carousel rides
8:30ish – Movie starts
July 5 movie – The Neverending Story
August 16 movie – Inside Out

Paul Brown Monday Night Jazz Series
Starting on July 8 and last night is August 12
6pm opening act; 7:30pm headliner
Bushnell Park Beer Garden
Fridays, June 28-September 27 – 4-8pm
Pump House Courtyard
Organized by Hanging Hills Brewing Company, Hog River Brewing
and Harry's Pizzeria & Tavern
Special Events
Please click on links for more information, as these are not Bushnell Park Foundation events.  All information should be on organizers websites.
Saturday, August 24 – Bushnell Park Carousel 105th Birthday Celebration
Saturday, September 7 – Guitars Under the Stars – 7-10pm
Saturday, September 14 – 24th Annual LEVAS Gospel Music & Fair
Saturday, September 21 – 20th Annual Recovery Walks and Celebrations
Sunday, September 29 – India Fair and Walkathon

Sunday, October 6 – Making Strides Against Breast Cancer – 8am check-in ; 10am walk
Saturday, October 12 – Eversource Hartford Marathon
Thursday, October 17 – Light the Night – 5pm
Saturday, October 19 – Greater Hartford Heart Walk – 9am check-in; 10am walk