Pumphouse Gallery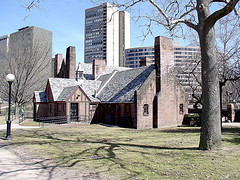 Originally built in 1947 by the Army Corps of Engineers using stones from the bridges that were removed when the Park River was buried, the Pump House incorporates a Tudor design. This quaint-looking building, reminiscent of an English cottage, is actually a functioning pump house–part of the Connecticut River Flood Control Project–and an art gallery, featuring exhibits by area artists. It is the only public gallery in a municipal park in Connecticut.
For more information about using the Pump House gallery, please call the City of Hartford at (860) 757-9526.
Bushnell Park Pump House Gallery – 60 Elm Street – Bushnell Park, Hartford
Available for office parties, private parties, creative socials.